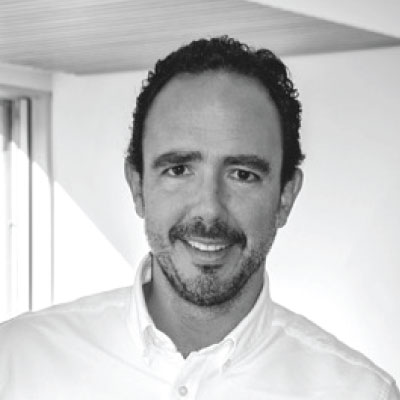 Abilities:
Periodontics Specialist
Diagnosis and treatment of periodontal diseases
Treatment of the gingival smile, periodontal regeneration and root coverage.
Implantology Specialist
Post-extraction immediate implants
Bone regeneration
Minimally invasive techniques
Guided surgery
Training
Dentistry Degree. Universidad Complutense Madrid
Master in Periodontology and Implants. Universidad Complutense Madrid
Gerodontology specialist. Universidad Complutense Madrid
Teaching:
Professor of Basic and Advanced Periodontics
Universidad Europea de Madrid 2002-2009
Expert professor in Clinical Periodontology
Perio Madrid Clinic 2004-2006
Teacher training courses in Periodontology and implant
Perio Madrid Clinic 2004-2014
Professor Official Master of Periodontology
Universidad Europea de Madrid 2007-2009
Professor Course of University Expert
University of Santiago de Compostela 2014-Present
Publications and other merits
Collaboration in two book chapters on Periodontology.
Author of four articles in scientific magazines.
Posters about Periodontology in SEPA and SEPES
Oral communications at SEPA conferences
Speaker at Congress of the Spanish Society of Dentistry and Stomatology
Lecturer at the Madrid College of Dentists COEM
Poster, Nobel Biocare Congress Word Tour – 2006
"Immediate loading on post-extraction implants" First prize.
Nobel Biocare World Tour World Congress, Las vegas USA -2007 Poster
Member of the European Federation of Periodontology
Member of the Spanish Society of Periodontology and Osseointegration SEPA