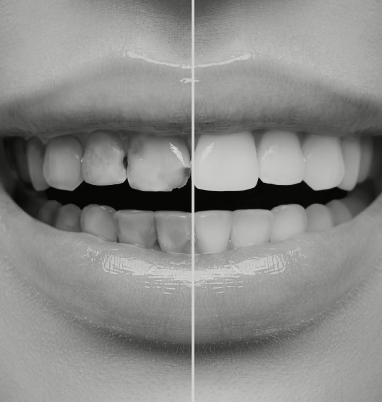 Complex dental rehabilitation
There are cases where patients come to the consultation with a great deterioration of their teeth, due to wear, disease or absence of teeth. The causes are diverse: bruxism, gastroesophageal reflux, caries, periodontal disease, accidents, etc. In these cases, where oral degradation is so advanced, it is necessary to carry out a Complex Dental Rehabilitation, which may include one or more dental treatments such as: prosthetic treatment, implant treatment, aesthetic treatment, orthodontic treatment, periodontal treatment and / or restorative treatment. It is necessary to establish a good initial diagnosis and treatment plan and then carefully coordinate all the treatments to be performed and return the patient to correct diction, chewing and positioning of the jaws, taking maximum care of the aesthetic result and oral health.
Medina Balda Clínic, your dentist in Madrid.